Team Communication Made Easy.
Push-to-talk over cellular solutions to help your business work smarter.
Shop Now
A safer alternative to cell phones.
TeamTalk is designed for businesses as a fast, safe alternative to using cell phones on the road. Instantly communicate to your mobile workers on the road or in the field- Anywhere in Canada. Operate quickly and smoothly with TeamTalk to free-up time and spend it where it matters.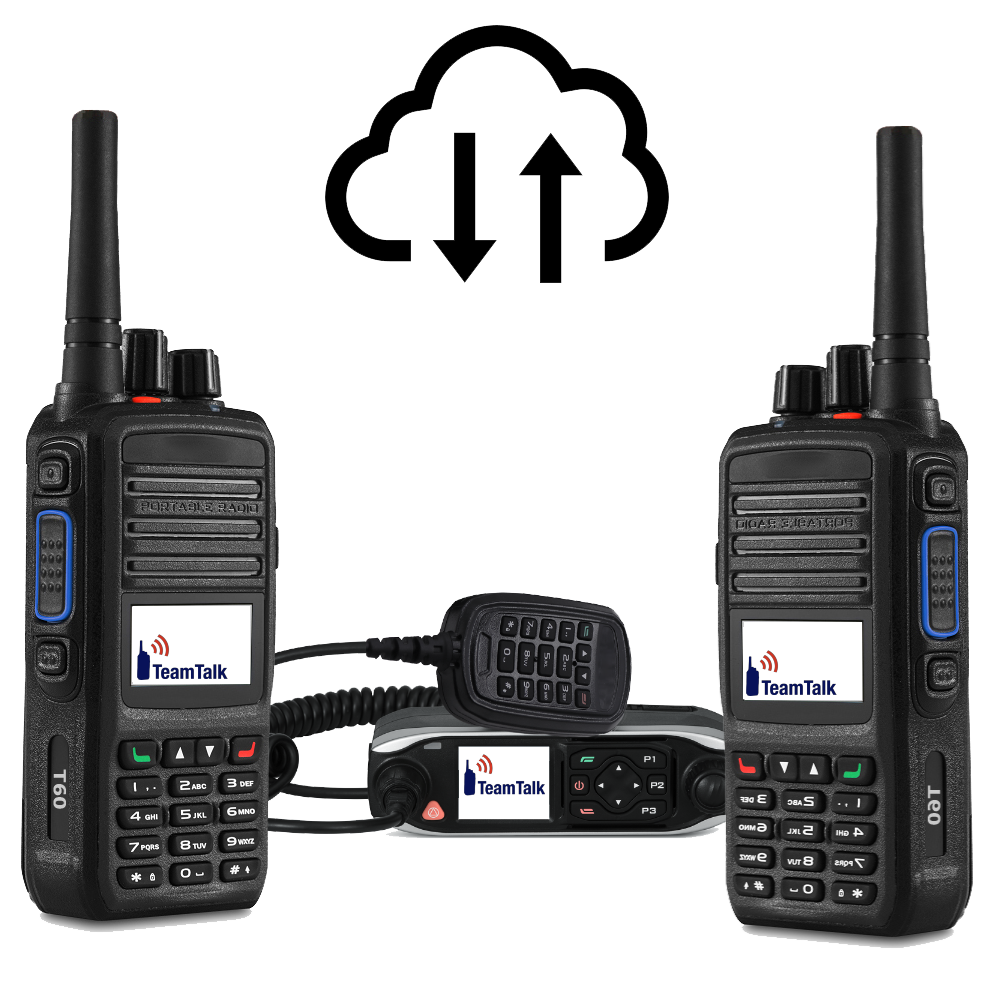 What is TeamTalk?
Working much like cellular, Teamtalk provides a digital 2-way radio solution for your mobile work force as an alternative to cellular anywhere in Canada there is cellular service. TeamTalk is a fast, effective and easy way to coordinate your team and keep them informed.
Shop Now
Why Choose TeamTalk?
When Communication Matters

Two-way radio style communications are used by Military, Emergency Response Organizations (Police, Fire, Ambulance), Utility companies, Airport Operations, Heavy Industry and various government agencies as their primary mode of communications - instant communication which keeps the whole group informed.

Advantages of Team Talk

✔️ Save time

✔️ Stay up to date

✔️ Safe and legal alternative to cell phones while driving

✔️ More cost-effective than cellphones
Who can benefit from TeamTalk?
Waste Management Companies

Coordinate and communicate with all trucks to ensure efficient collection.

Shop Now

Security Companies

Keep track of all teams and devices on a video screen, and communicate with them if they need to move to a different area.

Shop Now
Not sure which product is right for you?
Take our short quiz to find out which product is right for you.

Get Started
Features and Plans
Canada-Wide Unlimited Airtime

'Canada-Wide Unlimited Airtime' includes unlimited access for TeamTalk Portable & In-Vehicle devices.

Learn More

Desktop Management Feature

The Desktop Management, or Dispatch Feature allows online access to the TeamTalk system. Login from any computer and view/communicate with all of your team & devices.

Learn More
Work smarter with our Desktop Management feature.
Map View

See all of your assets on one simple screen. Broadcast messages to any portion of your team with only a few clicks of the mouse.

Easily Assign Tasks

Send job tickets or tasks directly to your employees devices. Create lists of common tasks to simplify the process and keep your team organized. 

Automated Check-In

Automatically have your team check-in at any time interval with TeamTalk. Employees in the field working alone can focus and stay safe without the need to continually call into the office. 
Testimonials
"The amount of time we save by using this system is worth it's weight in gold. The speed of communication through our business keeps us organized and ultimately allows us to serve our customers better!"

Dave, Voyager RV

"We have trucks and employees all over the valley at any given time. Having them able to update me on-the-fly keeps me informed, and makes my job easier."

Paul, 4 Less Disposal

"As many of our employees are on the road serving customers, we take pride in using best practices to communicate safely. We are able to reach our team anywhere in the valley without taking their attention from the road."

Rick, Accu-Sweep